Introduction
Legal industry rankings are an important benchmarking tool for buyers of legal services. They offer a clear indication as to which law firms and lawyers are most active, have the highest market reputation, and are working on the most significant legal matters – an independent seal of quality and assurance.
Increasingly, diversity and inclusion policies have become a consideration in the selection of outside counsel. Using data driven analysis of the latest rankings, this Legal Media 360 special report assesses gender diversity at the largest multi-practice domestic law firms in Indonesia.
The report examines data at three levels: 1) firm wide; 2) by practice area; and 3) by individual lawyer rankings. It will reveal:
Which firms are most gender diverse;
Whether gender diverse firms are more successful than male dominated firms;
Whether female lawyers are being afforded the same opportunities as men; and
If rising star data implies a more gender balanced future.
Methodology
Results are based on the analysis of lawyer rankings in the following international publications: asialaw, Benchmark Litigation, Chambers and Partners, IAM1000, IFLR1000, IP Stars, Legal 500, and World Trademark Review 1000. These have been selected based on their multilateral research process, where peer and client reviews as well as submissions are used to determine the rankings.
For the purposes of this report, due to the variance in the categorization at atomic levels, lawyer rankings have been reclassified by Legal Media 360 to bring them together in a common scale without distorting the differences in the range of the values. This has been achieved by referring to the definitions provided by the publications.
Lawyers have been grouped on a five-tier scale:
Senior Statesperson: Retired/semi-retired influential lawyers with close relationships with major institutional clients. Mainly work as a consultant.
Tier 1: Leading lawyers who have an outstanding reputation and a strong track record for leading the most significant matters.
Tier 2: Highly regarded lawyers who are active on significant matters.
Up and Coming Lawyer: Lawyers establishing their reputation and have been recognised for assisting on significant matters. Potential to be a tiered lawyer in the future.
Notable Practitioner: Lawyers who have had some market recognition and been on some notable matters. Not yet a tiered lawyer.
The 2022 dataset covers rankings published from June 2021 to June 2022. This timeframe ensures that similar matters submitted by the firms and evaluated by the above publications fall into the same research cycle.
Findings
Overall Gender Statistics
In the eight publications examined, a total of 341 lawyers in Indonesia were recognized.
The national average male to female ratio for Indonesia law firms is 70 to 30 percent which, as can be seen from the charts, is comparable with the overall Asia average of 71 to 29 percent: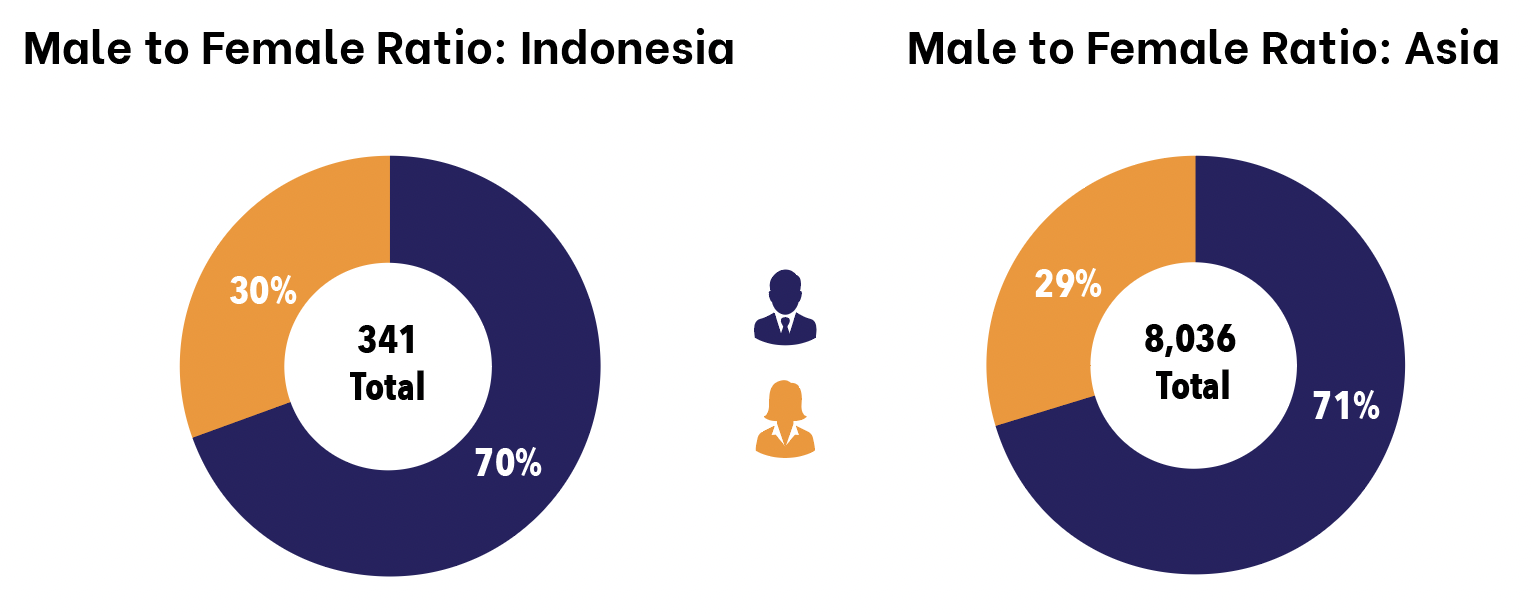 Firm Level
Top 10 Firms with the Most Lawyer Recognitions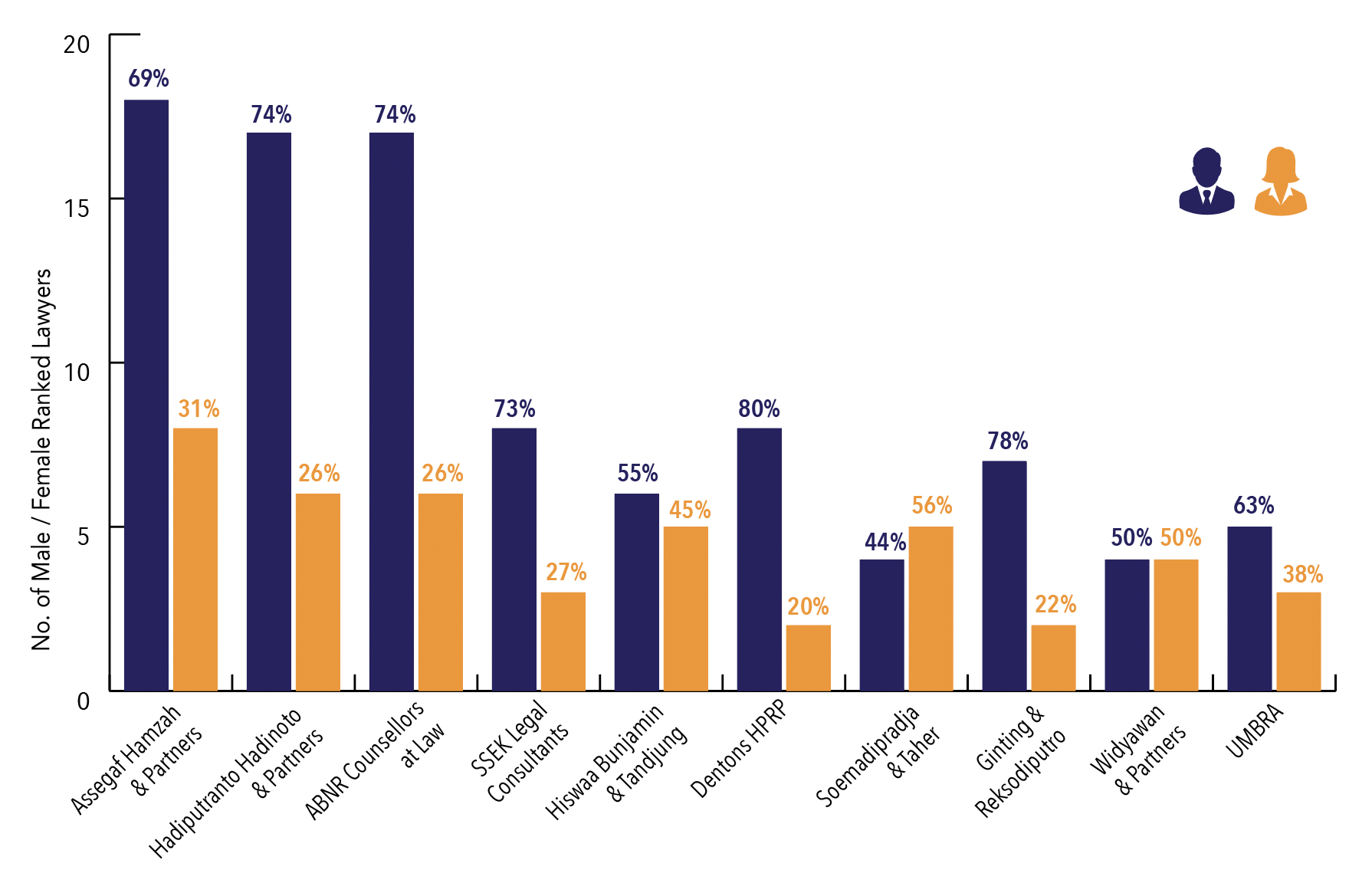 Commentary: Examining the law firms with the greatest number of lawyer recognitions reveals:
Five of the top 10 firms have better gender diversity ratios than the national average;
Dentons HPRP has the greatest overall gender imbalance of the top 10 firms; and
Widyawan & Partners is the most gender balanced firm..
Practice Area Level
Gender Representation by Practice Area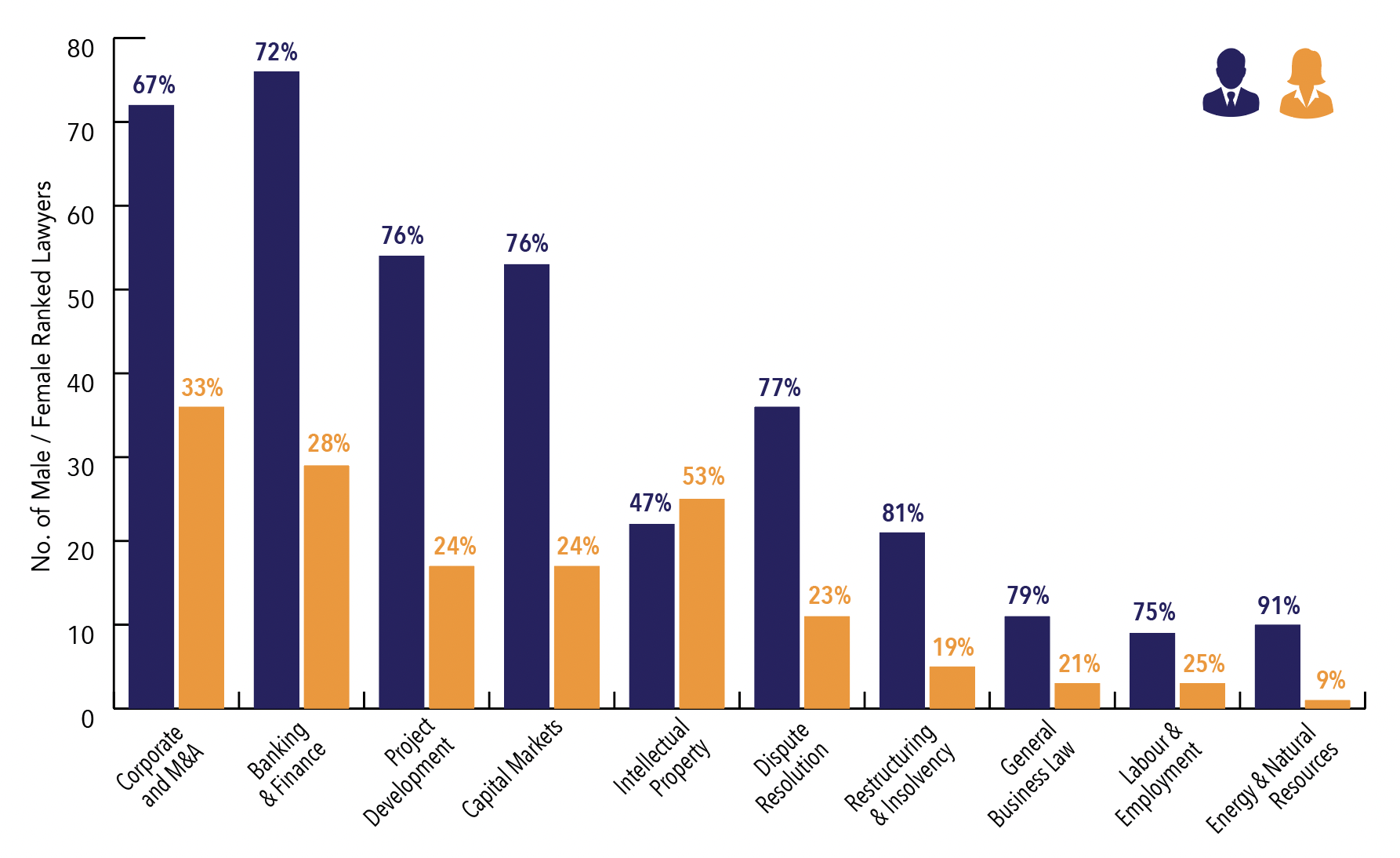 Commentary: The above chart shows the top 10 practice areas by recognized lawyer count. It is clear from the data that women lawyers are under-represented in eight out of the 10 practice areas, with diversity clearly lacking in the area of Energy and Natural Resources. As with other countries, Intellectual Property has the best gender balance.
Lawyer Levels: Gender
Breakdown of Gender by Tier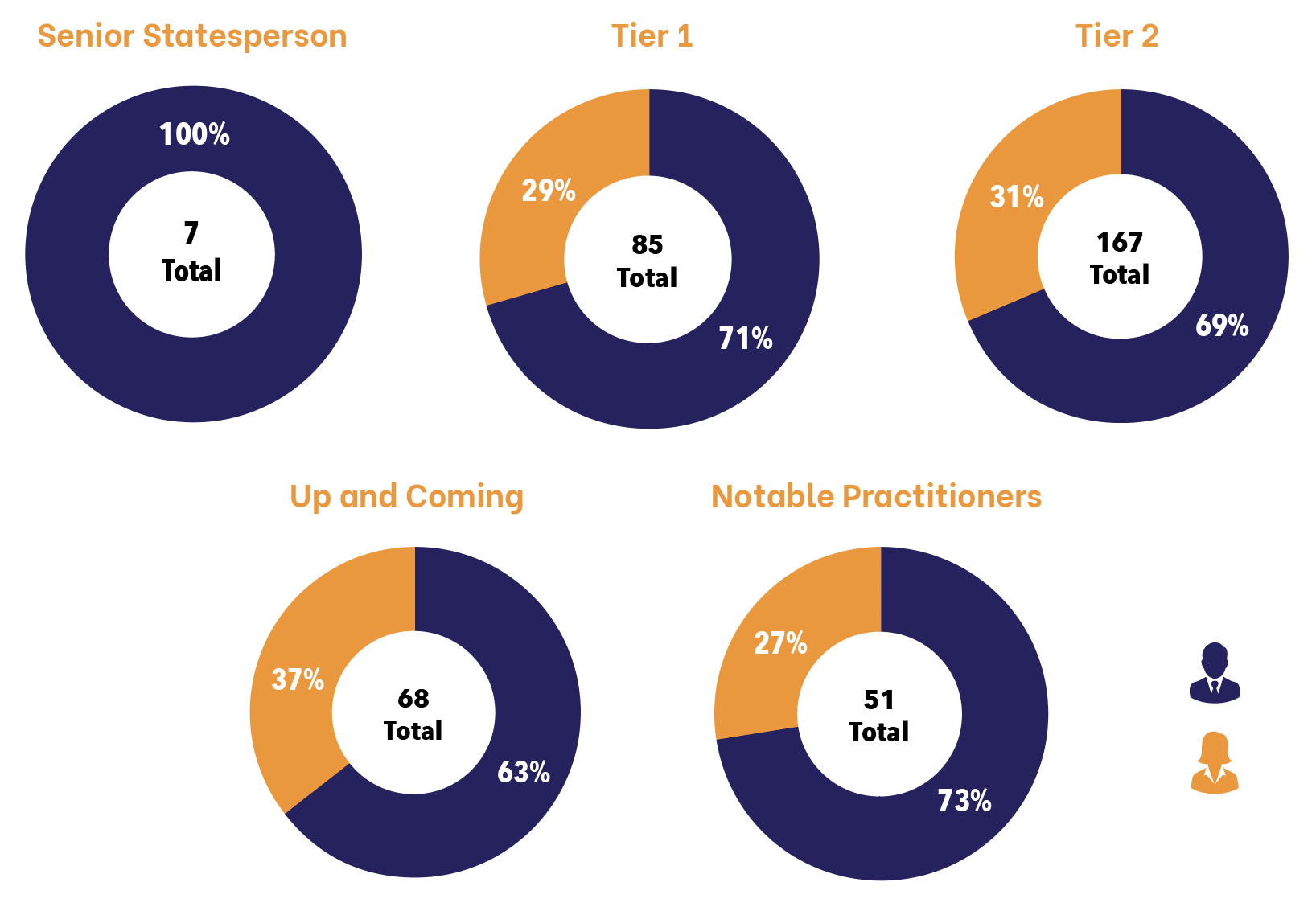 Commentary: The lawyer tiers can be seen to reflect the development cycle in a lawyer's career. Senior Statesperson represents those lawyers in their senior years. Tier 1, 2 and Notable Practitioners are lawyers at partner level, while Up and Coming Lawyers reflect the future representation of a law firm.
The above figures shows that while the gender ratio for younger lawyers is more balanced, it is still male dominated.
Top Lawyers by Practice Area with the Greatest Number of Tier 1 Rankings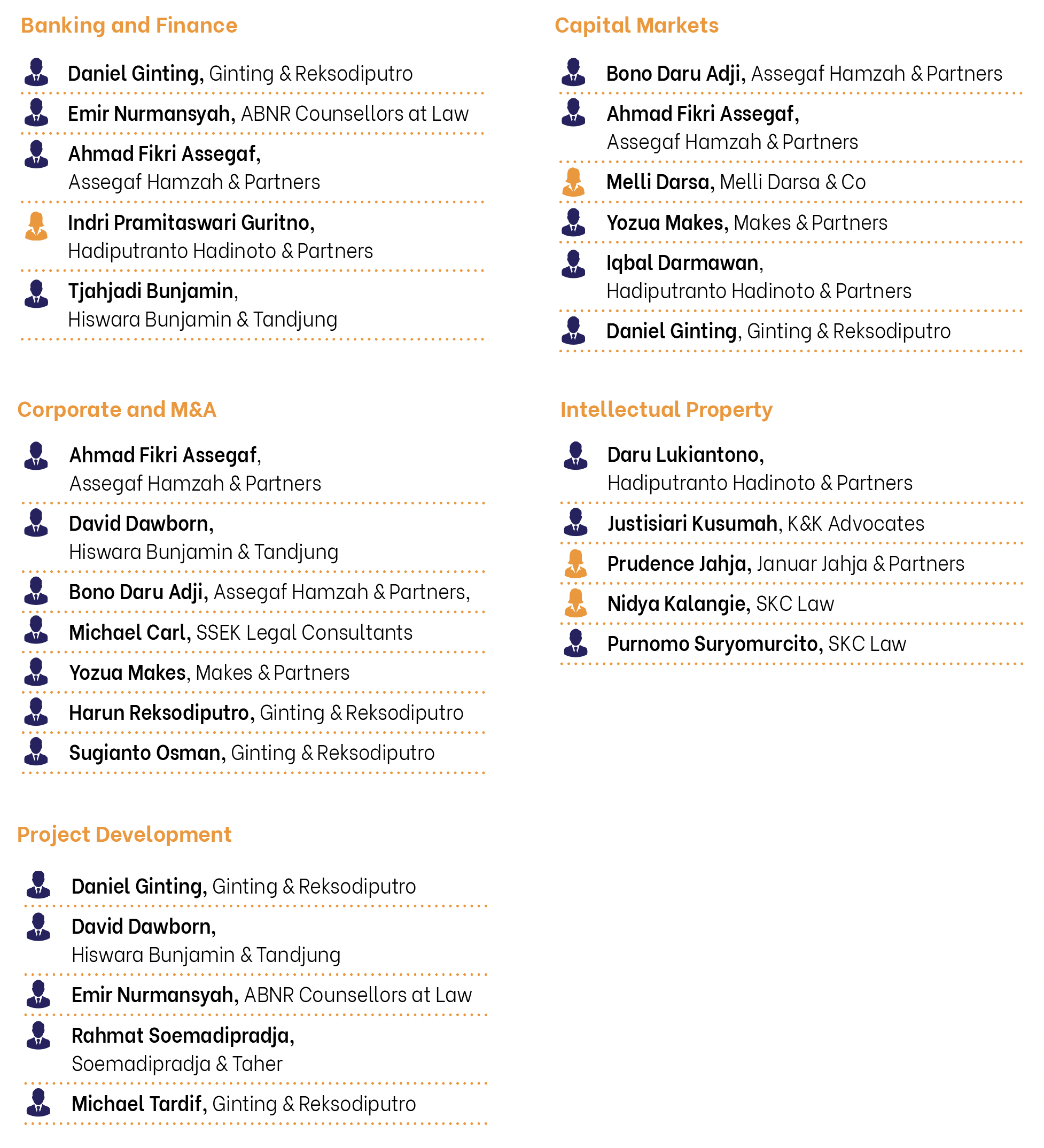 Commentary: A breakdown of the top five lawyers with the most Tier 1 recognitions shows that female representation at the top level is at, or close to, zero. This suggests that even at more gender diverse firms, female lawyers are not leading the most significant cases or deals in Indonesia. This pattern also holds true of the other practice areas analysed by Legal Media 360.